�

�Denture Relines and Repairs
Relines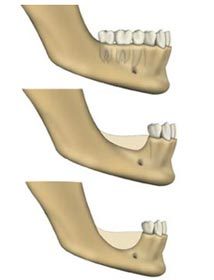 If your dentures are loose but there is minimal wear of your denture teeth, a reline may be what you need.
A reline is the process of refitting your existing denture. This consists of adding new base material to the tissue side of a denture so it fits properly again. Your existing denture may have fit well when it was first made. But, as time goes by, your gums shrink and change shape; your gums become smaller but your denture stays the same size. Your denture needs to be adjusted to your mouth as your mouth changes. A denture reline will refit the base to the way your mouth is now. This process requires an impression inside your existing denture and lab work to convert the new impression to a new fit.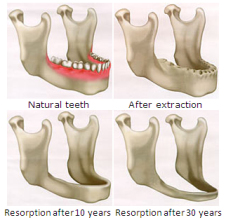 In order to maintain a healthy mouth and a proper fit of your denture, a reline is necessary every two to three years. Most insurance companies will cover this treatment option.
It is important to note that relining affects only the fit of your denture and will not change the appearance or shape of the teeth. Your denture should be relined every 2 – 3 years. A free consultation with one of our denturists will help you decide if a reline is the best option for you.
We can reline your denture in a day
Relines are required when tissues change due to:
Weight loss
Normal ageing
Medications
Disease or illness
Teeth extractions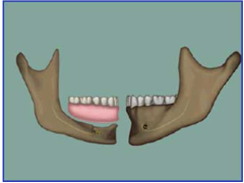 The bone loss continues.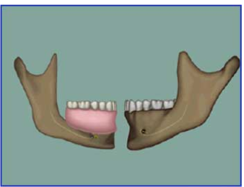 The denture needs to continually increase in order to compensate for the loss of bone. The denture becomes more and more loose, even with this compensation, as the bone continues to resorb.
Repairs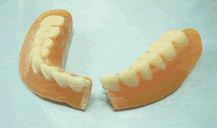 If a tooth "pops" out of your denture or it cracks/breaks, we can repair it for you in a day.
Do NOT Crazy Glue Your Broken Denture!
We have an in-house lab that will repair it for you quickly. Most repairs occur due to wear and tear of your denture and may be a symptom of a bigger underlying problem. Our denturists are available for a free consultation to discuss your options so a repair won't disrupt your life again.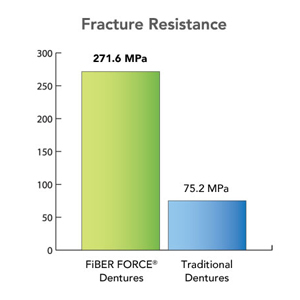 FIBER FORCE® - Denture Strengthener
Are your dentures constantly breaking or cracking? Try FiBER FORCE®.
Unlike traditional denture strengtheners made as cast (or metal) palates, FiBER FORCE® gives you all the advantages without being thick, heavy, and hard to adjust. Furthermore, FiBER FORCE® strengtheners cost less!
Thanks to their pre-impregnated fibres, FiBER FORCE® strengtheners boast an extremely high tensile strength which is almost 3 times stronger than the most common casting alloy, chrome-cobalt.
Advantages of FiBER FORCE®
Reinforce without adding weight and bulk
Reinforce without compromising aesthetics
Save money on constant repairs
Extend the life of your denture
Lower cost than cast (metal) strengtheners
We at the Mile Zero Denture Clinic understand how big of an investment your dentures are. Ask us how FiBER FORCE® can help you protect your denture.
Soft Liners
Requirements of Care for Soft Liners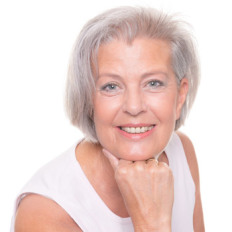 Made from a medical grade soft polymer material, soft liners are placed on the tissue-fitted surface of your hard denture base. The soft liner then acts as a shock absorber when you chew. By adding a soft liner to your dentures, you can reduce or even eliminate pain while eating. Soft liners can be added to both new and old dentures as well as relines and rebase situations.
Advantages of Soft Liners
Advantages of Soft Liners
Even after you have had your denturist meticulously adjust your denture's fit, and you still find yourself experiencing discomfort, soft liners may be right for you.
A soft liner may be needed for the following scenarios:
Gums with thin tissues over bony areas
Irregular shaped gums
Flat or nearly at gum tissues
Chronically sore gum tissues
Some additional advantages of soft liners include:
Creates a gentler, softer surface for individuals with sensitive gums
Increases comfort during the chewing process and daily wear
Helps tighten dentures for those who have irregularly shaped lower ridges
Please note that a soft denture liner compresses and conforms to your constantly changing jaw bone surface. While this does prevent pain from a moderately unbalanced bite that is a result of jaw bone shrinkage, a soft liner is not a long-term substitute. Routine adjustments are still needed to balance you denture bite.
Disadvantages of Soft Liners
Overtime soft liners deteriorate and collect microorganisms easily – this means you will have to replace your liners on a regular basis (usually once a year)
Soft liners are not the best fit for those with chronic thrush or poor hygiene
Soft liners discolour (for smokers this means the liner will have to be replaced sooner)
Requirements of Care for Soft Liners
Diligent home care and proper cleaners are required to maintain the vitality of your soft liners.
Just like any removable denture, regular checkups are needed for your soft liners to ensure fit and overall oral health.
Depending on your physiology as well as home care cleaning, soft liners are expected to last up to 2 – 4 years.
Be sure to use a denture cleaner with an antibacterial component when cleaning your soft liners.
Mile Zero Denture Clinic can provide you with professional cleanings as well as education in the maintenance of your soft liner.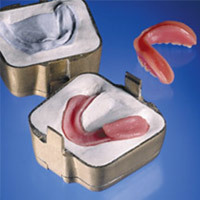 book an appointment
Drop by or call our clinic to
book a denture appointment
Get Answer
Check out our list of frequently
asked denture-related question
patient information form
Bring this form with you to
your appointment to speed up the process.