�

Accredited Denture Specialists in Dawson Creek.

We at the Mile Zero Denture Clinic take pride in our work and superior service. We have a great staff that all have experience in the health care industry. We work hard and all work together to create your smile. Our in-house lab enables us to fabricate your dentures quickly and with the highest quality.

Jodie Atkinson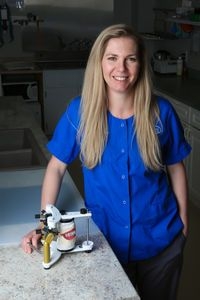 Denturist and Owner of the Practice
Jodie has been employed within the denturist industry since 2000. She started as a lab assistant at a denture clinic in Grande Prairie, AB. She completed her denturist education at N.A.I.T. in 2005 and continued to be employed in Grande Prairie as a licensed denturist until 2010. After working 10 years in Grande Prairie, AB, Jodie moved to the Dawson Creek area, and in February 2010 opened her own practice; the Mile Zero Denture Clinic. More recently, Jodie has opened a second location in Fort St. John.
Jodie takes pride in her workmanship and only accepts perfection from herself and her staff. She is known for her warm and caring chair-side manner. She believes that getting dentures can be a positive experience and she works hard not only to treat her customers' dental needs but to "get to know them" as well. She is constantly looking into new products and continuing education as she strives to give her customers the best that is available. Jodie was born and raised on a grain farm in the Alberta Peace Country. Jodie enjoys playing hockey, horseback riding and spending time with her family. She is happy to and appreciates the opportunity to work and help the community from which she was raised.
Cindy Leask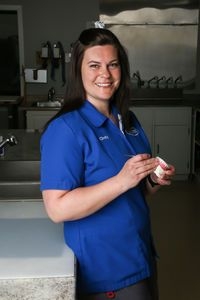 Denturist Student
Cindy grew up on a dairy farm near Barrhead, AB. She is the second oldest of 6 children. She moved to Dawson Creek in 2005 after being swept off her feet and marrying a local cowboy. She loves the outdoors, bike riding, playing volleyball and spending time with her 3 little girls. Cindy took her Health Care Aide course in 2005 and worked at Rotary Manor for 5 years as an RCA. She joined the Mile Zero Denture Clinic team in 2010 and was the receptionist for the clinic until 2012. Since then, Cindy has moved into the lab where she has taken over the role of lab manager and assisting Jodie with laboratory technician duties.
Dijo Varghese

Denture Laboratory Assistant

Seneca Shore

Laboratory/Office Assistant

Kelly Svensson

Office Manager
Rely on the techniques and advice of our highly educated specialists.
Contact us today to speak with a member of our courteous team!
Bringing Smiles to
Dawson Creek & Fort St. John
Improving my clients' self-esteem and ability to eat their foods properly is my #1 goal. I understand how important it is for everyone to smile with confidence and to enjoy a meal with friends and family.
17 years in the industry has given me the experience necessary to help each individual's specific denture needs. I feel fortunate to have the opportunity to work and help the region from which I grew up in.
Denturist Jodie Atkinson
Professional Associations & Certifications
Member of the National Denturist Association, USA
Associate member of the College of Alberta Denturists
Restorative Treatment Options for Denturists and Dental Technologists – Nobel Biocare Canada Inc.
Replicating Nature in Excellence – ADA CERP
Dental Implants for Denturists, Keeping it Simple – Straumann – Zest Anchors
Prosthetic Techniques for Implant Overdentures – Zimmer Dental
The Essentials of Small Diameter Implants and Advanced Training Hands-On Workshop – CMI Institute