Partial Dentures from the Mile Zero Denture Clinic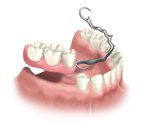 A partial denture replaces one or more teeth and will help prevent your natural teeth from shifting or drifting into the space left by the loss of a natural tooth. We work closely with your dentist to develop a treatment plan and style of partial denture that best fits your dental needs.
There are a variety of different materials used to create a partial, including acrylics, a metal/acrylic combination or flexible thermoplastics.
Metal/Acrylic Partial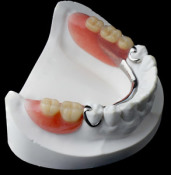 The metal/acrylic partial is called a cast partial. It is usually a more comfortable style of denture, due to its lightweight and precision fitting frame. The metal is either a highly compatible chrome cobalt alloy or titanium, which are both ultra-thin, light and very strong.
Acrylic Partial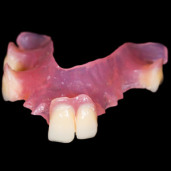 The acrylic partial is a less expensive option and can incorporate metal clasps into the design. This type of partial is generally used for temporary use and teeth can be added to it as your dental needs change.
Flexible Thermal Plastic Partials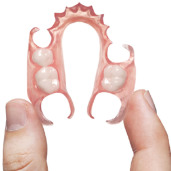 The flexible thermal plastic partials have the advantage of flexibility to increase stability and are a great choice for those patients who have allergies and whom are trying to avoid intraoral metals. Also, some designs can incorporate a metal base to increase the partials strength and use the flexible acrylic clasps to elevate the look of metal clasping.
A Partial is Essential!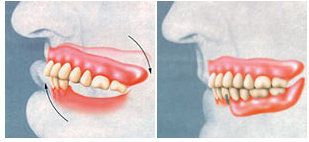 A lower partial can improve the fit of your full upper denture as it creates stability during chewing. Without a lower partial when you chew against your front natural teeth, the back of your upper denture will drop.
book an appointment
Drop by or call our clinic to
book a denture appointment
patient information form
Bring this form with you to
your appointment to speed up the process.