What Does Sugar Do to Dentures? - December 16th 2020
---
Whether you're in the market for new dentures, need same-day repair, or want a free consultation, we here at Mile Zero Denture Clinic can help you. Located in Dawson Creek we also serve Fort St. John and the surrounding Peace Region. Ensuring we have satisfied customers is our priority and has been for the last ten years. We also do relines, repairs, and soft liners. We know how to prevent damage and protect your dentures from future wear and tear. Sugar is a huge culprit and we wanted to share a few things it does to your dentures.
It is not the sugar itself that causes harm to both teeth and dentures alike, rather it is the bacteria within our mouths feeding on the sugary foods that cause damage. This bacterium produces acid which can dissolve away the protective tooth enamel. The key is to manage tooth decay in time, or consequences like gum disease can occur. Don't leave warning signs uninvestigated. The best practices for prevention and protection are seeing your dentist regularly. This is especially true for those who wear partial dentures. The denture teeth rely on your natural teeth for stability and security.
Some tips for doing everything you can to increase the longevity of your dentures are:
Avoid Hard Candies
When chewing hard or sticky candies pieces can break off and get between your gums and your dentures. The hard candies also wear down denture teeth at an accelerated rate. If you want your dentures to last longer do not eat hard candies regularly. This can cause severe irritation and pain. When eating caramels or other sticky candies having to continuously bite down hard can loosen the denture.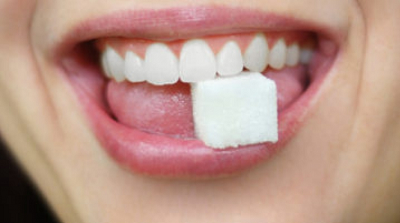 Use Denture Cleaner
Part of the issue with the bacteria in your mouth interacting with sugars you eat is that this can promote plaque buildup. Plaque on dentures can become calcified. The sticky layer of plaque can cause damage to both your gums and your dentures. Therefore, using a good quality cleaner every day can keep both your dentures and gums clean and healthy. Most especially if you do indulge in some sweets.
Eat Sweets at Mealtimes
This leads us to the best time to eat sweets if you're going to have them. When eating any food there is an increase in saliva which helps lower the amount of sugar that stays stuck to your teeth and denture. To diminish the sugar concentration in your mouth, drink a glass of water after a sweet treat. This will also rinse away sticky substances.
With years of experience behind us and a true attitude of exceptional care, we at Mile Zero Denture Clinic aren't happy until you're happy and ready to take on the world. We continue to want to help you in any and every way with tips, tricks, and needed information to make sure your dentures do exactly what they're supposed to do. We are so proud to serve Dawson Creek and the surrounding areas. Don't hesitate to reach out and contact us today!