Pros and Cons of Full Dentures vs. Denture Implants - March 18th 2022
---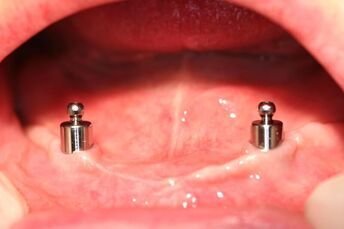 Are your missing or damaged teeth causing you a considerable amount of oral damage, pain, and worse smiling embarrassment? Don't be saddened; tooth loss might often occur due to tooth decay, gum illness, dental fractures, or even accidents. Do not flush all your hope down the gutter as here at Miles Zero Denture clinic in Dawson Creek and Fore St John; we got you covered. We offer exquisite options between full dentures and implant dentures. Are you wondering if it is the right choice to make? Here is what you must know about full dentures and denture implants

What are full dentures?

With full dentures, you'll have all your missing teeth replaced. The dentures get supported by the bones and tissue within your mouth. Unfortunately, many denture wearers do not have enough bone to create a stable foundation for conventional dentures. And therefore, dentures can sometimes feel loose unless denture adhesive is applied or if dental implants are placed.

Complete dentures are categorized into standard and precision dentures. They usually come in various shapes, molds as well as hardness. Click here to learn more about full dentures from the Miles Zero Denture Clinic.

Pros

There are some fascinating benefits of having dentures. They include

• If you are working with a tight budget, the dentures are quite affordable, especially if you need to replace many teeth.
• These dentures are non-invasive; thus, they hardly require any surgery as compared to implant dentures.
• They are easily adjustable and quick modifications to accommodate any extra tooth loss.
• Proper denture placement provides a great deal of support to the lips and cheeks.
• Complete dentures can give you your smile back and allow you to eat most foods.

Cons

Sadly, these fantastic dentures have some drawbacks. They are as follows

• Dentures can feel Loose. If a person does not have enough gum, the denture will feel loose and need dental adhesive in order to be stabilized. Lower dentures tend to have more problems than upper dentures as there is no suction to the lower denture and it can move around in the mouth while eating causing sore spots.
• Dentures often require high maintenance as they need to become removed and cleaned frequently. It'd be best if you didn't leave them overnight in your mouth

• Some individuals keep reporting some difficulty in speaking as well as eating with dentures in their mouth.
• The dentures are fragile as they can easily break. (But do not worry, at the Mile Zero Denture Clinic we can repair your denture within 1-2 hours. No appointment necessary).

What are denture implants?

The implants often replicate the tooth's natural roots. They assist in preserving the gum tissue and the jawbone. The main benefit to an implant supported denture is the implants stabilize the denture so it does not move. An implant supported denture causes less sore spots and creates more confidence compared to a conventional denture. It also provides an excellent aesthetic look.
There are various implants, such as two implants, four implants, bar implants, and fixed teeth. You can visit here to familiarize yourself with the in-depth intricacies of the implant dentures.

Pros

Here are some remarkable benefits of implant dentures

• No more loose dentures, the implants keep the denture put and stops the denture from moving while you are eating and talking.
• Confidence; implant supported dentures will give you the confidence to smile wide and eat more of the foods you love.
• Less sore spots. When a denture is stabilized by dental implants, it does not slide around on the gums and therefor it will not create sore spots.
• Once you have your implants in place, you can easily care for them as you would do with the natural teeth.
• The dental implants preserve the bone so where the implants are placed the gums will not shrink in that area.
• You can use the dental implants for decades with proper care as it doesn't alter speech; it's easy to clean and doesn't change the jawbone shape.

Cons

Brace yourself as the fascinating implant dentures come with a set of disadvantages.

• They are quite costly as compared to dentures.
• The dental implants will require one to undergo one or more surgical procedures to place the implants appropriately.

Now that you have reviewed the pros and cons of full dentures and implant dentures, the ultimate decision will always be yours. If you are in Dawson Creek or Fort St. John (or even Grande Prairie) and need a smile lift-up, we are at your service. Here at the Miles Zero clinic, we do more than ensuring you win the battle with your smile. With our superior services, you can have your smile restored in no time. You can now freely contact us, book an appointment, or even call in to learn about our premium services in Dawson Creek and Fort St. John, Northern BC.

And remember, whether you get a conventional denture or an implant supported denture, we at the Mile Zero Denture Clinic can fabricate the denture in just 2 days!