Overcoming Denture Pain and Identifying the cause of Discomfort - July 30th 2021
---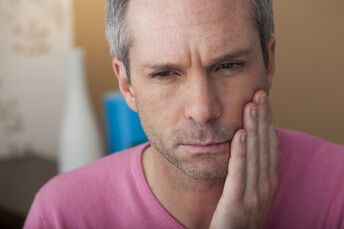 Since 2010, Mile Zero Denture Clinic has provided Dawson Creek, Fort St. John, and surrounding area clients with an array of denture services which include denture repairs and relines.

The team at Mile Zero Denture clinic knows just how crucial it is to have dentures fabricated to each client's individual needs. High-quality dentures not only provide the best fit for comfort to ensure you can indulge in all the foods you enjoy but also aid in the maintenance of your oral health.

Over time, most denture clients suffer from denture sores, pain, and discomfort for several reasons, which can undoubtedly make it a challenge to enjoy the foods and flavours you love.

Here are a few causes of denture pain, all of which we can help you overcome.

Loose Dentures

Dentures should be relined every 2-3 years because a person's gums are constantly shrinking for the rest of their lives. When a denture is loose, the edges of the denture "dig in" or "high center" which will cause sore spots.

Loose dentures will also slide around the mouth, this imbalance will cause rubbing and painful pressures while eating. A denture reline will refit the denture to your gums and allow the denture to fit evenly on your gums to eliminate the sore spots cause by the loose-fitting denture.
At the Mile Zero Denture Clinic we can reline your denture in just 1 day. We recommend you come for regular check-up so one of our Denture Experts can see if a denture reline can improve the fit and function of your denture.

Improper Maintenance and Care

Bacteria can cause havoc within the mouth if given the chance. Dentures require very strict maintenance to make certain that bacteria don't have the chance to create unwanted issues.
Loose food particles are a breeding ground for bacteria and need to be addressed often to avoid bacteria from forming.

Dentures should be removed and cleaned daily. Soaking dentures overnight in either water or a cleaning solution is highly recommended in addition to brushing every morning.
Be sure to avoid abrasive and bleaching cleaners though as such products usually contain chemicals that may cause damage to the dentures. Only use products made for dentures.

Adjusting to New Dentures

Most people need 2-3 post insertion adjustment when they receive a new set of dentures. Sometimes the dentures "settle in" and the denturist will need to adjust the edges of the denture if they feel too long and cause sore spots. At the Mile Zero Denture Clinic we make sure we book you back for a check-up after you get your teeth to take care of any sore spots. We also provide Free adjustments for 6 months to a 1 year, (depending on if you purchased standard or precision dentures),and guarantee our work. We want to ensure you receive the best fit and care for your denture, so you can get back to eating the foods you love with confidence and comfort.

Non-Denture-Friendly Meals and Snacks When Adjusting to New Dentures

Hard vegetables, nuts, seeded bread, chewy candies, and other similar items are examples of food to stay clear of until your mouth adjusts to your new hardware. Forcefully biting down so that you can chew on a solid chunk of food may destabilize your dentures and cause sores to develop below them.

Sticking with softer foods such as cooked vegetables, soups, ground meats, eggs, ripe fruit, and pasta is a great idea while you get used to your new dentures. It's helpful to allow time for your mouth and gums to adjust to the new equipment.

Maintaining a moist mouth can also assist in the reduction of denture pain, friction, and gum irritation.

Bad Chewing Habits

If you have had failing, worn, or missing teeth before dentures, you may have developed bad chewing habits to accommodate such issues.

The adjustment to chewing differently may be a harder habit to break than one would think. It can certainly be a challenge to master new chewing habits after introducing partial or full dentures.

It may take some time to relearn correct chewing techniques. However, with some time and patience, you'll be indulging in your favourite foods comfortably once again.

There's no doubt that mouth discomfort is something we would all like to avoid if possible and Mile Zero Denture Clinic's team of experts has a wide range of solutions for these common denture pains.

Learn more about our denture reline and repair services and book your appointment with our friendly team of denturists. We're happy to help you overcome the denture pain you have been experiencing!