Mile Zero Denture Clinic's Suggested Product List for Denture Care - September 13th 2023
---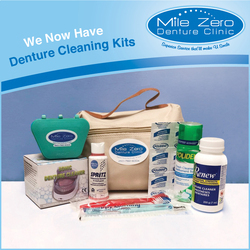 Did you know that denture plaque contains pathogenic microbes? Candida albicans and Streptococcus mutans can occur on a denture if the wearer does not have a consistent cleaning regime with the right products.
Dentures should be cleaned 2 times a day and in some cases after a meal to avoid the build up of denture plaque and bacteria. Having a good denture cleaning routine will also help battle bad breath.
Below is the Mile Zero Denture Clinics Suggested Product List for Denture Care:
Brushes
Denture brush – Made for dentures, they have pointy end that can clean in the tight areas of the denture.
Soft-bristle toothbrush – good for brushing your gums and tongue. A soft-bristle toothbrush is also necessary if you have a soft liner.
Ultrasonic Denture Cleaner
Professional denture cleaning in your own home! Use with Renew® Denture Cleaner for best results. Available for purchase at the Mile Zero Denture Clinic—free Renew® samples!
Daily Denture Cleaners
It is important that denture wearer use cleaning products which are made for dentures. Denture cleaning products need to kills bacteria and should be non-abrasive.
At the Mile Zero Denture Clinic we sell a variety of cleaning products
• Dr. B's Cleaning Crystals – this cleanser is cleaning agent which is added to water to soak your dentures overnight.
• Dr. B's Cleanadent Paste – this product is a "toothpaste" type cleanser for dentures. It comes in a tube and you use the paste to brush your dentures.
• Renew – this is a monthly stain remover. It is a powder which is added to water to soak your denture in for 30mins to remove stains and make them sparkle.
Denture Polishing
Dentures should be polished annually to buff out scratches which occur in the acrylic due to regular use or if the denture wearer is using abrasive cleaning products. At the Mile Zero Denture Clinic we offer $10 Denture Cleaning and Polishing every Friday at our Dawson Creek location.
If your dentures need repairs or a more thorough cleaning, read about our denture services!