How Do I Tighten My Dentures? - October 25th 2019
---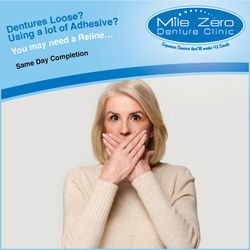 Mile Zero Denture Clinic provides superior denture services to Dawson Creek, Fort St John, and the surrounding areas. With our denturist team you will find free consultations, dentures made in 2 days, and same day services for relines and repairs. In regards to denture relines and repairs, myself and our team sometimes hear questions about tightening dentures on your own.

"How to tighten dentures at home?"
"How to reline your denture yourself?"
"How often do dentures need to be relined?"

The above are common questions many denture wearers ask, especially first time denture wearers. I'll address these questions here, but let me begin by explaining why a denture needs to be relined. Dentures need to be relined when they become loose. Dentures become loose because after the teeth are removed the gum slowly shrinks and is constantly changing for the rest of your life. There are several factors that affect the way your gum change and the rate they shrink. Factors such as your overall health, diabetes, weight loss and medications will all have a hand in how quickly your gums change. This is why most denture wearers need to reline their dentures every 2 years.

The reline refits your exiting denture to your gums as your gums change shape. The denturist takes an impression of your gums inside of your existing denture and replaces the pink part of the denture. The teeth stay the same but the denture base is reprocessed to fit as the new impression did.
There are different types of relines/liners: processed relines, temporary liners, soft relines and temporary tissue conditioners. All of which will tighten your denture; you will need to discuss with your denturist as to which type of reline will meet your needs.

How Long Does a Denture Reline Take?

The length of time a reline appointment takes to complete will vary depending on the type of reline, but normally a chairside reline takes 30-60min and a processed reline will take 1 day. If you need a processed reline, you will have impressions taken in the morning and you will be without your denture until the afternoon. But do not worry if you do not want to leave the office without teeth, we have a comfortable room for you to stay while you wait for your teeth. The cost of the reline will also vary depending on the type of reline needed. A quick Free Consultation with your denturist will give you a treatment plan including the cost. If you have a dental plan we can pre-authorize treatment so you only pay what your plan does not cover.

How Often Do My Dentures Need To Be Relined?

In the first year after extractions a person's gums change shape and shrink quite quickly. Most denture wearers will require 1-3 temporary liners during this time - especially in the first 3-6 months. This is why at the Mile Zero Denture Clinic we set up a treatment plan for you which will include 1-2 temporary liners. These liners will tighten your denture while you are healing. After a year, you will need the processed reline, (separate fee). The processed reline will replace all of the temporary liners and refit your denture to your gums now that the first year of healing is complete. After the processed reline, you will be on a normal schedule for future denture maintainance, which includes relines every 2 years and new dentures every 5-8 years.

Can I Reline My Dentures At Home?

Never try to reline your denture at home. There are some home reline products sold on the internet; however, a person can wreck their denture if they use these products. It is best left to the professionals. Come see one of our denture specialists for a Free Consultation and we can discuss what type of reline will work best for you.
Remember, if you are using a lot of denture adhesive or more denture adhesive that you use to, you probably need a reline. Book an appointment with your denturist. We can help you!