Dentures vs. Partials vs. Bridges vs. Implants: Everything You Need to Know - September 18th 2020
---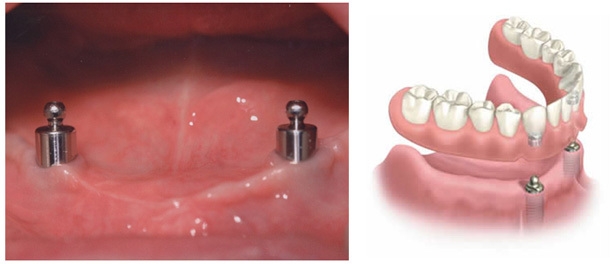 Each person deserves to speak clearly and chew thoroughly. We, at the mile zero denture clinic pride in assisting all our clients in smiling better, eating better and boosting their overall wellbeing. However, if you are scared about making such a substantial dental change, you need the right experts by our side. Our highly esteemed staffs work very diligently to give you the top-notch product that is worth your money. Out tailored treatment plan always meets each person's needs. However, if you are yet to know the difference between dentures, partials, bridges and implants don't fret. Here's everything you need to know about them.

Getting dentures for the first time is beneficial in restoring a smile once you've lost your teeth or had them removed due to an illness. To make the most out of your choice, you need to dispel all fears and anxiety. Take a deep breath and learn more about the various types of dentures that you can get. Also, get to learn how to maintain your dentures so that they can offer you the ideal service.

Types of dentures

Each person has a different dental need that has to get addressed. First, you need to familiarize yourself with various types of dentures. It'll enable you to select unique dentures that fit perfectly and addresses your needs.

They are also known as complete dentures. They are uniquely designed for people who have no remaining natural teeth.

The full dentures are often held in place using suction. The two types of complete dentures include immediate dentures and conventional dentures.

1. Immediate dentures

They get made before any of your remaining teeth get removed. The denturist usually takes the jaw and teeth measurement. It'll act as a guideline to creating unique dentures that fit your mouth perfectly. The advantage of using immediate dentures is that it offers you with teeth while the healing process takes place.

2. Conventional dentures

They get used once your gums and jaws are healed completely. They are removable and held in place by suction. It'd help if you were careful when using dentures as they need to get removed before bed. It'd help to clean your dentures daily to keep bacteria at bay.

Partial dentures are also known as removable partial dentures prostheses.
They are often made of one or more artificial teeth and get held in place by clasps. The denturist gets to fit onto the adjacent teeth.

When it comes to bridges, it isn't removed as compared to partial dentures. Bridges are often used in the replacement of missing teeth. It also extends to a place where there are no natural teeth left. There are various types of dental bridges, and all of them are custom made to fit one's mouth.

• Traditional bridge

The denturist works meticulously to ensure that the bridges sit comfortably on the tip of the healthy teeth.

• Implant bridges

They get supported by dental implants if you don't have enough healthy teeth to offer the necessary support.

• Resin-bonded bridges

They are alternatively known as Maryland bridges. The resin-bonded bridges only get used when one has missing teeth at the front of their mouth. The bridge gets created by fusing artificial teeth with metal bands. These bands get connected using dental cement to the back of the natural teeth.

• Cantilever bridges

They get used when one has perfectly healthy teeth on one side of the missing teeth. It gets anchored in place when the denturist fixes it with the adjacent natural teeth. Thus, getting secured on one side only, unlike the traditional bridge.

Have you ever asked yourself why other people are having artificial titanium roots inserted into their jawbones? Well, that is what is called dental implants. Their main work is to replace one's natural tooth's root. It can be used to hold an artificial tooth or a bridge in place. However, you need to know that dental implants aren't for every person. For you to get dental implants, you ought to be in perfect health.

How to maintain your dentures

Are you worried about keeping your dentures in tip-top shape? Here're simple steps on how to maintain dentures.

 Handle with utmost care

Once you remove your dentures, you need to place them on a clean towel. You ought to handle them with utmost care to prevent any breakage or dents

 Brush and rinse regularly

Once you are done eating, you need to remove your dentures carefully to brush them. It's a chance to remove any food, plaque or stain. While you are brushing your dentures, you need to use soft bristles as they are quite tender. You also need to avoid using toothpaste to evade any abrasive scratches which can harbour plaque. Before you put your dentures in the morning, you need to rinse under the faucet thoroughly to inhibit you from ingesting any chemicals which might result in stomach pain, vomiting or burns.

 Clean your mouth

Your mouth needs to get cleaned after every meal and before going to bed. You need to brush the remaining teeth after removing the dentures to avoid any bacteria build-up. You need to gargle or floss your teeth as it goes a long way in ensuring you maintain top-notch oral hygiene.

 Soak the dentures

Whenever you aren't using your dentures, you need to ensure they are socked to prevent moisture build-up. It'll also enable you to preserve its shape. It'd be best always to soak them in a denture solution to maintain dentures in its original condition. If any of the dentures have metal, you need to avoid soaking them in a chlorine solution. It's to prevent corrosion or metal tarnishing.

 Regular dental checkups

It'd be best always to have regular dental checkups for your teeth. It's the best way for your dentist to monitor your progress and ensure that your dentures are also in top shape. It's also a chance to stay on point with your denture maintenance and care at all times.


Contact miles zero denture clinic to get premium denture services or a quick dental checkup. We are devoted to walking with you every step of the way to enjoy your new dentures. We also offer extra valuable information on the various denture types and how to care for them effectively.