Can Worn Dentures Be Repaired? - January 21st 2022
---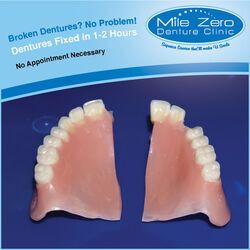 The Mile Zero Denture Clinic has two locations; Dawson Creek, and Fort St. John BC. They specialize in revitalizing worn dentures as well as fabricating brand-new smiles. Yes, worn dentures can be repaired, however, repairing a broken worn-out denture is fixing a symptom of a bigger issue. Normally, if a worn denture breaks, it either needs to be relined or replaced. Regardless of how worn out your denture is the Mile Zero Denture Clinic can fix your broken denture within 2-3 hours no appointment necessary. If it is worn-out, Mile Zero will fix the denture quickly so you can get your smile back and the knowledgeable Denturists and staff can give you some options for the future to ensure a broken denture does not disrupt your busy life again.

Mile Zero Denture Clinic recommends a full denture reline every 2-3 years and can do them in as little as one day. The relines are necessary as most individual's gums change due to weight loss, normal aging, medications, disease or illness or teeth extractions. The reline process involves adding additional material to the denture and is most commonly referred to as a refitting. Over time, the denture may become loose in your mouth and not fit as snug as it did when you first received them. This is because your mouth and gums change over time and your denture does not. If there isn't any wearing on the teeth, but the denture doesn't fit quite right, a reline is perfect for you.

Sometimes, a tooth may come loose from a denture requiring a reattachment. Mile Zero Denture clinic hosts an in-house lab that can quickly and effectively reattach a tooth to the denture in a couple of hours. Mile Zero does not recommend someone reattach broken teeth in dentures themselves and instead recommends they be brought into their facility to be repaired by professional denturists.

Dentures should be replaced every 5-8 years. The denture teeth are acrylic and wear down over time. As the teeth wear down it can create a collapsed facial appearance, (the back teeth wear down and the chin may have the appearance of getting closer to your nose). You may develop joint pain in your jaw and it will start to be more difficult to chew your food properly. Replacing your old worn denture with a new denture will allow you to chew better, improve your appearance and prevent the need to repair the denture.

Mile Zero Denture Clinic has also sought to give longevity to their client's denture in a cost-effective means by offering a product called FIBER FORCE. These hard, durable fibers are ideal for cracked dentures and reinforce without adding weight and without compromising aesthetics.

In some instances, the denture may be causing some pain while worn. Normally discomfort is found after a meticulous fitting process and is usually the result of irregularly shaped gums, flat or nearly at gum tissues or chronically sore gum tissues. In this instance, a Soft-liner may be applied to the tissue-fitted base of the denture to give padding when chewing, thus alleviating the above issues. With proper maintenance, a Soft-reline can provide comfort for 2-3 years, making it a quality investment if you're experiencing discomfort with your dentures.

Mile Zero recommends reaching out for educational material on maintaining your dentures, ensuring a proper fit, repairs, relines, and preventative care; much of which can be found on our website or simply give them a phone call. Call Mile Zero Denture Clinic today @ 250-782-6004, to schedule an appointment.